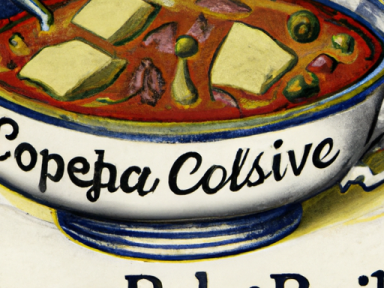 Old-Fashioned Goulash: A Hearty, Budget-Friendly Dish for Tough Times
In these uncertain times, it's more important than ever to have a stash of delicious, budget-friendly recipes in your repertoire. One such dish that has stood the test of time is old-fashioned goulash. This hearty and flavorful meal comes from humble origins, popularized during the Great Depression when people had to make the most of limited ingredients. Today, I'll walk you through a classic recipe for old-fashioned goulash that will not only warm your soul but also help you save some money.
What is Old-Fashioned Goulash?
Goulash is a traditional Hungarian stew that has been adapted and enjoyed by people around the world. The word "goulash" actually means "herdsman" in Hungarian, and this dish was often made by Hungarian shepherds. Its humble beginnings make it a perfect choice for those looking to be self-reliant and frugal.
Ingredients You'll Need
To make old-fashioned goulash, gather the following ingredients:
1 pound of ground beef or stew meat, whichever you prefer or have on hand
1 large onion, diced
3 cloves of garlic, minced
2 cups of elbow macaroni or any other pasta shape you have available
1 can (15 ounces) of diced tomatoes
1 can (15 ounces) of tomato sauce
1 cup of beef broth
1 teaspoon of paprika
1 teaspoon of dried oregano
1 teaspoon of dried basil
Salt and pepper to taste
Instructions
In a large pot or Dutch oven, brown the ground beef or stew meat over medium heat. If using stew meat, make sure to cut it into bite-sized pieces before browning. Remove any excess fat.
Add the diced onion and minced garlic to the pot and cook until the onions are translucent.
Stir in the diced tomatoes, tomato sauce, beef broth, paprika, dried oregano, and dried basil. Season with salt and pepper according to your taste.
Bring the mixture to a boil, then reduce the heat and let it simmer for 10 minutes, allowing the flavors to meld together.
Add the elbow macaroni or pasta of your choice to the pot. Cook until the pasta is tender, stirring occasionally to prevent sticking.
Once the pasta is cooked, remove the pot from heat. Let it sit for a few minutes to allow the goulash to thicken.
Serve the old-fashioned goulash hot, garnished with fresh parsley if desired.
Why Old-Fashioned Goulash?
At its core, old-fashioned goulash represents a time when people made the most out of what little they had. It's a testament to resilience and resourcefulness. By preparing this dish, you not only enjoy a satisfying meal but also gain a valuable skill of making something delicious out of simple, affordable ingredients.
Furthermore, having a go-to recipe like old-fashioned goulash is a smart move for any homesteader, prepper, or individual concerned about self-reliance. In times of crisis or uncertainty, it's essential to have meals that provide sustenance, comfort, and can be made from pantry staples that are often overlooked.
So, why not try your hand at making old-fashioned goulash? It's a savory reminder of our history and a practical way to embrace self-reliance in your own kitchen. Enjoy!